My wife got me this for Christmas '13. I'm in the process of losing weight, was training for a triathlon, and really didn't care to race on a 40+lb Mountain Beast. In the time I've had it I've put about 1100 miles on it, run 3 sprint events, a 40-mile TDC fundraiser, and made a few changes.
I destroyed the bottom bracket, so I swapped in a sealed unit.
Since I had to swap the bottom bracket, why not the crankset? Now running a Suntour 170 x 53/39 double.
The 53 tooth big ring required a longer chain
When I called Kent to get the BB spec, they sent me a set of 700x25 tires.
Flipped the seat post and added a double bottle holder behind.
Dropped the flat pedals in flavor of an SPD set.
Changed the saddle for something with a little more padding (but I do wear tri shorts)
Also debadged the entire thing... I
hate
stickers
There are a few things I'd like to do still. Mainly along the lines of improving the drivetrain and ditching the bars for a single piece with aerobars. She's been a wonderful companion on my weight loss journey, and an unstoppable team mate during the events I've participated in. Still working on beefing up the motor, but I can generally hang on with the fast guys during our group ride (22+ mph).
Original: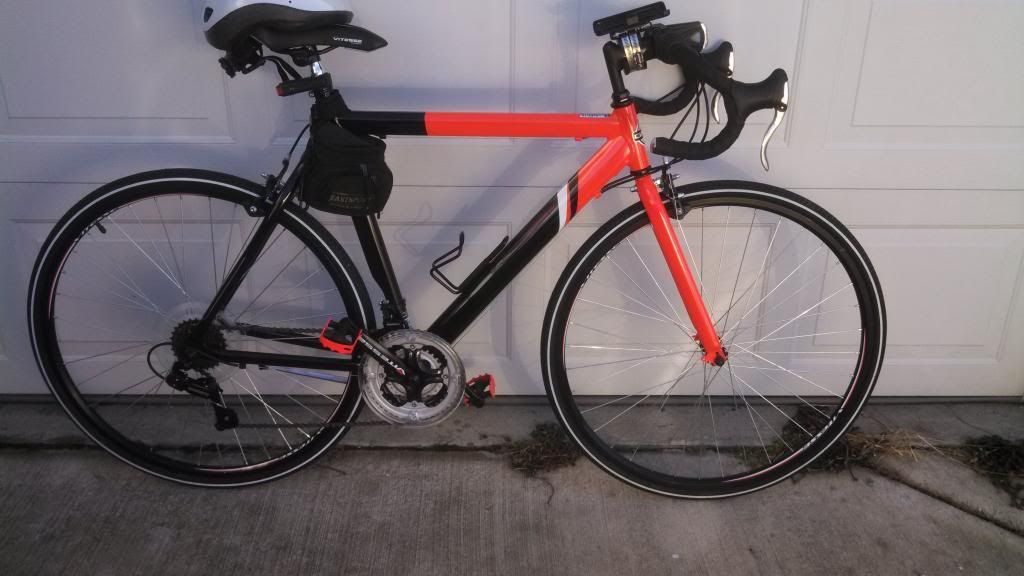 Before swapping chain: